The Exposure-mat is based on the principle that at an aperture of f16 on a bright sunny day which can be quantified as a light level of LV 15 using ISO 100 film. Given these conditions your pictures will be properly exposed when the shutter speed is the reciprocal of the film speed i.e. 1/100th of a second, modern cameras usually have 1/125th of a second as the nearest shutter speed to this, which is within 1/3 of a stop and therefore quite acceptable. Far better explanations of this phenomenon are available from Fred Parker at www.fredparker.com and Dick Sullivan at Flyspec Publications.
EV vs LV
You may strike a bit of confusing regarding EV (Exposure Value) and LV (Light Value), simply LV is the actual brightness of the light where as EV is the LV value at a certain ISO film speed rating which relates to the film and shutterspeed combinations.
Using The Exposure-mat
Simply align the ISO film speed you want to use with your current estimate of the Light Value at the top of the Exposure-Mat then read the possible aperture and shutter speed combinations at the bottom of the Exposure-Mat.
Example 1

In example 1 we set the Exposure-mat for ASA 100 film on a bright sunny day, EV 15. The bottom scale matches 1/125s shutter speed to an aperture closest to f16.
(The f16 Sunny Rule).
Example 2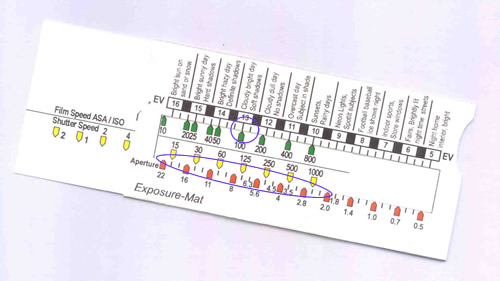 In Example 2 we set the Exposure-Mat for ASA 100 film on A Cloudy Bright Day, with soft shade, EV13. The bottom scale shows us the range of combinations from 1/15s at f22 through to 1/1000s at f2.8.
Conversely we can set the bottom scale first by setting the desired Aperture and shutter speed combination and reading the film speed required for the lighting conditions. ie 1/500s at f3.5 on an overcast day or when the subject is in shade, EV11 would require ASA 400 film.